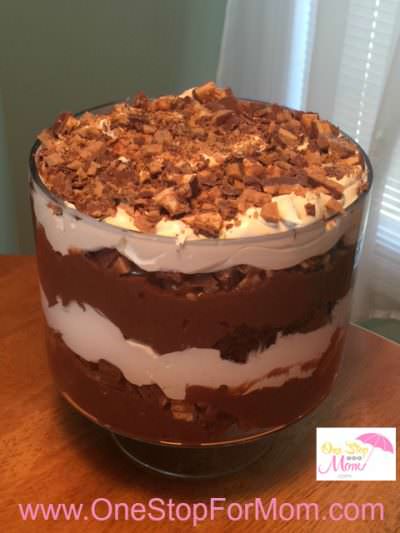 Ingredients:
1 package of Brownie Mix
3 Packages of Instant Chocolate Pudding
6 Snicker Bars (cut up into small pieces)
6 Skor or Heath Bars (crushed)
1 Large tub of Cool Whip (16ounces)

Prepare ahead of time:
1 box of Brownie mix (you can also use chocolate cake but I like brownies)
3 packages of instant chocolate pudding
In large pedestal bowl, layer brownies, cover with chocolate pudding, 1/3 of candy mixture, and 1/2 of Cool Whip. Repeat and use the last 1/3 of the candy to cover the Cool Whip.
Cover and store in the refrigerator until ready to eat. ENJOY!