Last week I felt led to give my son's soccer coach a thank you note with a coffee shop gift card.  I wanted him to know how much I appreciated the time he puts into teaching my little guy how to play soccer.  The coach works all day then gives his evenings and weekends to these kids and I am grateful for him.  I didn't want to wait til the end of the season because we've been at this a few weeks now and everyone needs a little encouragement to keep going.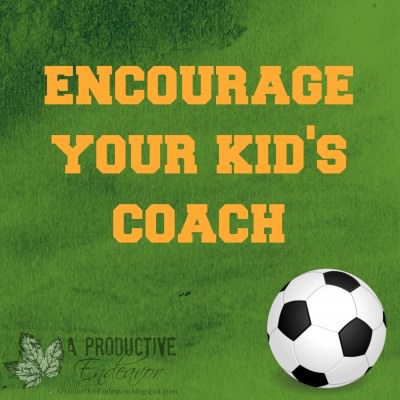 Do you have kids playing soccer, football, cheerleading or another sport right now? With the halfway point coming up, it's a great idea to keep the coaches motivated by knowing how much you value the time they give to your kids.  If your budget is tight, a hand-written thank you card goes a long way.  A $5 gift card to a coffee shop is a simple way to show your thanks too.  There are so many ways to show your support and volunteers can run out of steam just like the rest of us.
The reason I share is because the coach was having a tough week and this was just the pick-me-up he needed, unbeknownst to me.  You never know what kind of difference a simple act of kindness can do, especially done at just the right time.
Happy Fall,
Mary
***The opinions expressed in this blog are my own and that of the guest bloggers. They do not reflect the opinion of the advertisers on this site.